We got the "new iPad" at the very first day it got out in Spain (I was the first person in line on that store). One might think I opened the box and started playing games or browsing the web… But we were obsessed to see how iMimic would look like in the iPad's Retina Screen! Yes, we already had a working prototype in the simulator just waiting for the real deal. On the new iPad, iMimic looks AMAZING!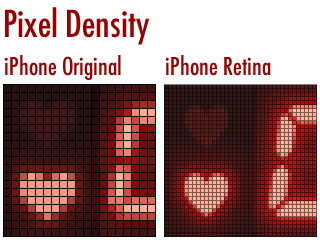 Even having a working prototype with more then 50% of the images ported to the new resolution it took us 2 additional weeks to have every single new image polished and good to go.
We also wanted to avoid a significant increase in download weight. Keeping a reasonable size was far from simple… it was necessary not only take care when compressing the new images but also touch some of our original material. The careful work paid of: iMimic has grown from 13 MB to just 14.5 MB.
Full Universal Binary + Full Retina
The same app provides the best-looking possible image in all 4 scenarios: iPhone (normal and retina) and in the iPad (normal and retina).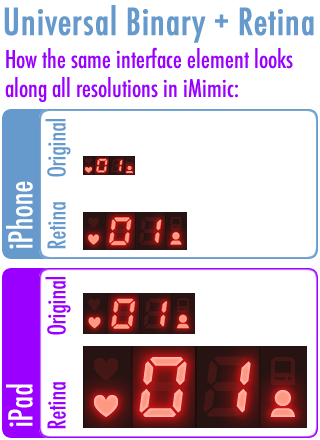 Every interface element has 4 distinct image files – and every particular device, for example your phone, will use only one set of files and ignore the other 3 sets.
Of course this "full support" in a single app makes you wonder if it would be better to "split" the app in two… We didn't do it cause we still think it is a good thing for users to buy the app only once and be able to use on their phone and tablet as well.
A final consideration, as a designer/developer: my MacBook white, 2009, which I truly love is starting to show its age by being slow and limited when dealing with these new huge Fireworks project files for Retina apps. Now everything starts at 1536 x 2048 pixels, not 320 x 480 as it used to be when I bought this mac, in the beginning of the iOS apps gold rush. I am glad I have upgraded it to 4 Gigs of RAM and not to two back then :).
I also work with a 2 monitors setup: the own MacBook 13″ screen (in which I keep opened all the Fireworks toolbars and property inspectors) and an external Full HD Samsung Monitor (completely free to draw the images) – it used to be more than enough for everything. Not anymore! When I am working on an iPad Retina screen project at 100% view, I can only see half of the image… It seems the only acceptable computer now is the iMac 27″ with it's amazing 2560 x 1440 pixels monitor (and rotate it to use in vertical orientation!!).